Singaporean, Permanent Residents
Min. 21 years old and above
NRIC
Currently Employed
Latest 3 months payslip
Latest 6 months or more CPF Contribution Statement
Income Tax Statement
Original PUB or Mobile bill reflecting your residential address
Our loan tenure is ranged from minimum 2 months (61 days onward) to maximum of 12 months and The Annual Percentage Rate (APR) of our Payday Loan is minimum 12% to maximum of 36% per annual on reducing interest rate for 1 years tenure.
For more information about our services and how we can assist, you can contact by email us at loan@cashloandeal.net
General Information On Payday Loan :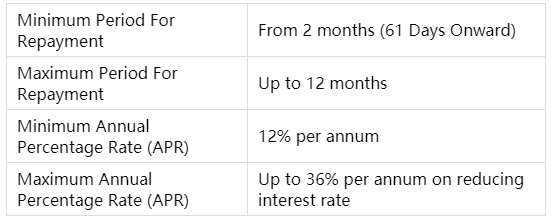 Sample Representation On Total Cost Of The Loan :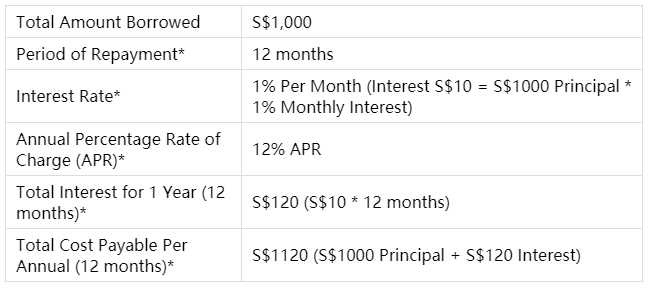 Above stated exclude administrative fee.

* Cost of borrowing stated is an estimation and may vary due to loan amount, period of loan and other fees such as late fee and late interest rate may be charged in the event of violation on terms & conditions.
* Your actual credit amount and interest rate will be based on your individual credit profile and affordability.
* Tables above are for illustration purposes only. You should seek advice from your adviser or consultants before making any financial decisions.